Casa Canabal
Hotel Boutique
La mejor combinación entre la calidez del Caribe, la arquitectura moderna y el arte colonial se encuentra en el corazón de Getsemaní. Una Casa Hotel con sólo 19 habitaciones se convierte en el cómplice ideal para el descanso, la tranquilidad y el confort. Vive la experiencia Canabal completa disfrutando de nuestros servicios para hacer tu estancia memorable.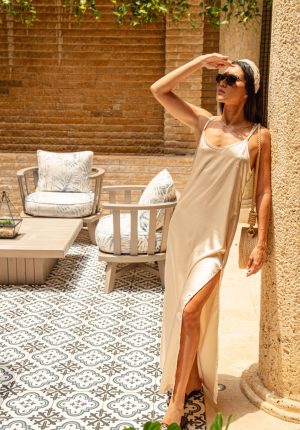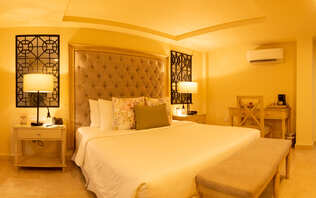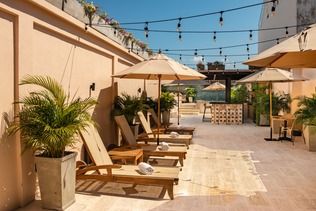 Contamos con una categoría y estilo propio de comodidad, lujo y atención personalizada para que disfrutes de una estadía inolvidable

Vive un experiencia única en
Lina Velez
15. Abril, 2022.
Es la segunda vez que vengo y me encanta, el servicio excelente, el personal amable, la comida rica, los cuartos silenciosos y cerca de todo lo turistico.
Wow - we cannot say enough good things about our stay at Casa Canabal. Clean, modern rooms, absolutely gracious service and hosting, and what felt like a near private pool. Because the hotel is small, there was almost only ever maybe 2 or 3 other people enjoying the rooftop at the same time, making for a tranquil experience. My only bugaboo was that the water for the showers is indeed lukewarm. I saw the other reviews claiming they dealt with freezing showers, and thought that maybe the hot water fritzes out at times. Not quite - those reviews are overdramatic, but the showers *do* only get to about lukewarm. That being said, everything about this hotel was so perfect otherwise that I just have to give a 5-star review. In particular, due to Luis, one of the staff. Any question, small request, anything at all, Luis was friendly, enormously helpful, kind, and quite literally made our stay at the hotel perfection. I've never thought that gracious hosting could be a make or break for whether we enjoy our experience, but Luis was so exceptional, he did just that.
(Stay 3/24/22 - 3/27/22) Hotel is beautiful. It is located in a convenient part of the city where there are a lot of vendor, food and bar options. Luis made this experience great. His customer service was top notch. He asked how he could help, gave suggestions and assisted with anything we needed. The breakfast was also good. Only downside is the shower water only got warm and not hot.
Jose Carreiras
15. Marzo, 2022.
4.5 stars. Beautiful boutique hotel in the middle of the action. This is absolutely the type of hotel that makes you feel like you are immersing yourself in the culture when visiting a foreign country. Our only complaint is that the lights went out for a short amount of time a few times. The guest services are extremely helpful and the a la carte breakfast was good. We definitely recommend this property.
nora zarate castro
28. Febrero, 2022.
El hotel casa Canabal es lindo no solo el hotel sino también el personal que labora,en especial Yair excelente su formar de recibir a los clientes, es muy amable, además la alimentación es muy buena y super rica, tiene muy buena ubicación.
Samuel de jesus Tordecilla elles
28. Febrero, 2022.
Muy lindo hotel, excelente personal, todos son muy amables la sra clara que es la camarera es muy linda y deja todo muy limpio y organizadl, este hotel sin duda alguna ha sido uno de los mejores que he visitado, volveria a ir miles de veces, me encato la experiencia, ????????
Desinfección de superficies y de calzado

Uso obligatorio de tapabocas


Gel antibacterial para manos

Personal capacitado en bioseguridad

Uso obligatorio de tapabocas

Gel antibacterial para manos

Personal capacitado en bioseguridad