Casa Canabal
Hotel Boutique
La mejor combinación entre la calidez del Caribe, la arquitectura moderna y el arte colonial se encuentra en el corazón de Getsemaní. Una Casa Hotel con sólo 19 habitaciones se convierte en el cómplice ideal para el descanso, la tranquilidad y el confort. Vive la experiencia Canabal completa disfrutando de nuestros servicios para hacer tu estancia memorable.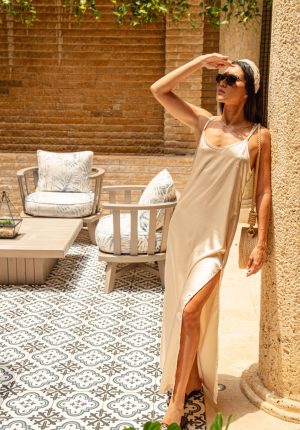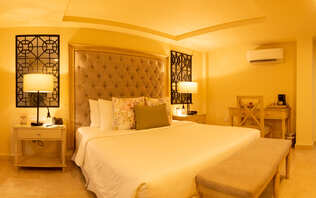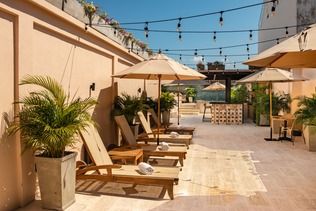 Contamos con una categoría y estilo propio de comodidad, lujo y atención personalizada para que disfrutes de una estadía inolvidable

Vive un experiencia única en
I stayed at Casa Canabal for a solo birthday trip in Cartagena and it was wonderful. The staff is super friendly. The hotel is very very clean. I always wear slippers in hotels and I never felt like I had to in my room. The bathroom was very very clean and spacious. The vanity products were from L'Occitane. The breakfast was always wonderful. On my birthday they sang me happy birthday and included a waffle "cake" with a candle. The pool is not large, it's less for swimming and more for luxuriating which was suitable for my trip. The hotel is itself picturesque. I would stay here again. It's in the heart of Getsemaní and is perfectly situated to access all the street murals, the Avenida de las Sombrillas and the other decorated streets (it's located on a decorated street itself), and access to plaza de la Trinidad and its namesake church. The plaza comes to life at night with street vendors and music and dancing. I definitely recommend this hotel.
Patricia Cejas
13. Octubre, 2023.
Hermoso lugar y excelente atención por parte de todo el personal, siempre dispuestos a que el huésped esté cómodo.
Erik Garces
11. Octubre, 2023.
Attentive staff, very clean and well decorated. Modern, yet fits in with the vintage feel of the area. Centrally located and yet with all the amenities you would expect from a larger and newer constructed monolithic corporate hotel. If you want to experience the real Cartagena then stay here. Five Stars!
Rocio Gallegos
23. Septiembre, 2023.
La ubicación es ideal para llegar caminando a Getsemani, al centro de Cartagena , a la muralla y varios sitios turísticos. El hotel es bastante bonito y tranquilo .
Aliadny Bis
15. Septiembre, 2023.
Estadia maravilhosa. Hotel muito bem localizado, 5 minutos da torre do relógio. Quartos bons e limpos. Serviço atencioso. Todos os funcionários são muito educados e prestativos. Café da manhã satisfatório.
Carlos Paz
16. Agosto, 2023.
El hotel casa Canabal es ideal para familias, parejas o amigues. Esta en el corazón de Getsemaní y tiene un excelente servicio, sobre todo en la recepción con Rosmy G. El desayuno puede estar incluido. Aunque el hotel está en una zona bulliciosa, el hotel no es nada ruidoso y puedes dormir cómodamente en sus habitaciones. El único pero que pude ver es la ventilación de los cuartos y sus baños, pero fuera de ahí es una gran opción!
Jérôme DUBIN
8. Agosto, 2023.
Très bel hôtel, au cœur du quartier de Getsamani. Autant la rue est débordante de vie, autant dès que vous passez la porte de l'hôtel, vous entrez dans un havre de paix, de calme et de confort (literie parfaite....). La petite piscine en rooftop permet de se relaxer avant de replonger dans la bouillonnante ville de Cartagena.
Desinfección de superficies y de calzado

Uso obligatorio de tapabocas


Gel antibacterial para manos

Personal capacitado en bioseguridad

Uso obligatorio de tapabocas

Gel antibacterial para manos

Personal capacitado en bioseguridad